Knee Brace
---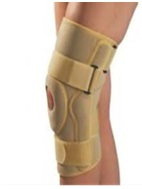 Dimensions:
Length: 440 mm
Width: 250 mm
Intended Use:
Polycentric, Nylon webbing Knee Joint to helps in mild knee arthritis pain and swelling.
• Bi axial heavy-duty hinge ensures full weight bearing & free flexion movement. Open patella design release patellar pressure, hold the patella in position
• Anti-tourniquet strapping provides better grip and ensure no blood constriction.
• Four way stretch ensures quick healing\ perfect fitting, uniform & effective compression.
• Wrap designs allows customized compression and easy application.
• Easy to use, washable, comfortable, no buckling, Anatomic & ergonomic design, long functional life & comfortable.
• Velcro loop/hook packed in corrugated sheet box.